Although they may not get much attention, eyebrows are an important facial feature that can either help or hurt your appearance. A set of strong, properly groomed eyebrows will enhance and define your face. If you have thin or sparse eyebrows due to genetics, aging, overplucking, or another cause, microblading at Med Spa At Seena One is a nonsurgical treatment that can create beautiful, natural eyebrows. This newer treatment uses semi-permanent ink and a skillful technique to fill in and define or reconstruct your eyebrows. Dr. Mukhtar Anees and his team offer microblading for Burleson, TX patients who want defined, natural-looking eyebrows. Schedule an initial consultation at Med Spa At Seena One to learn more about microblading and get your custom treatment plan.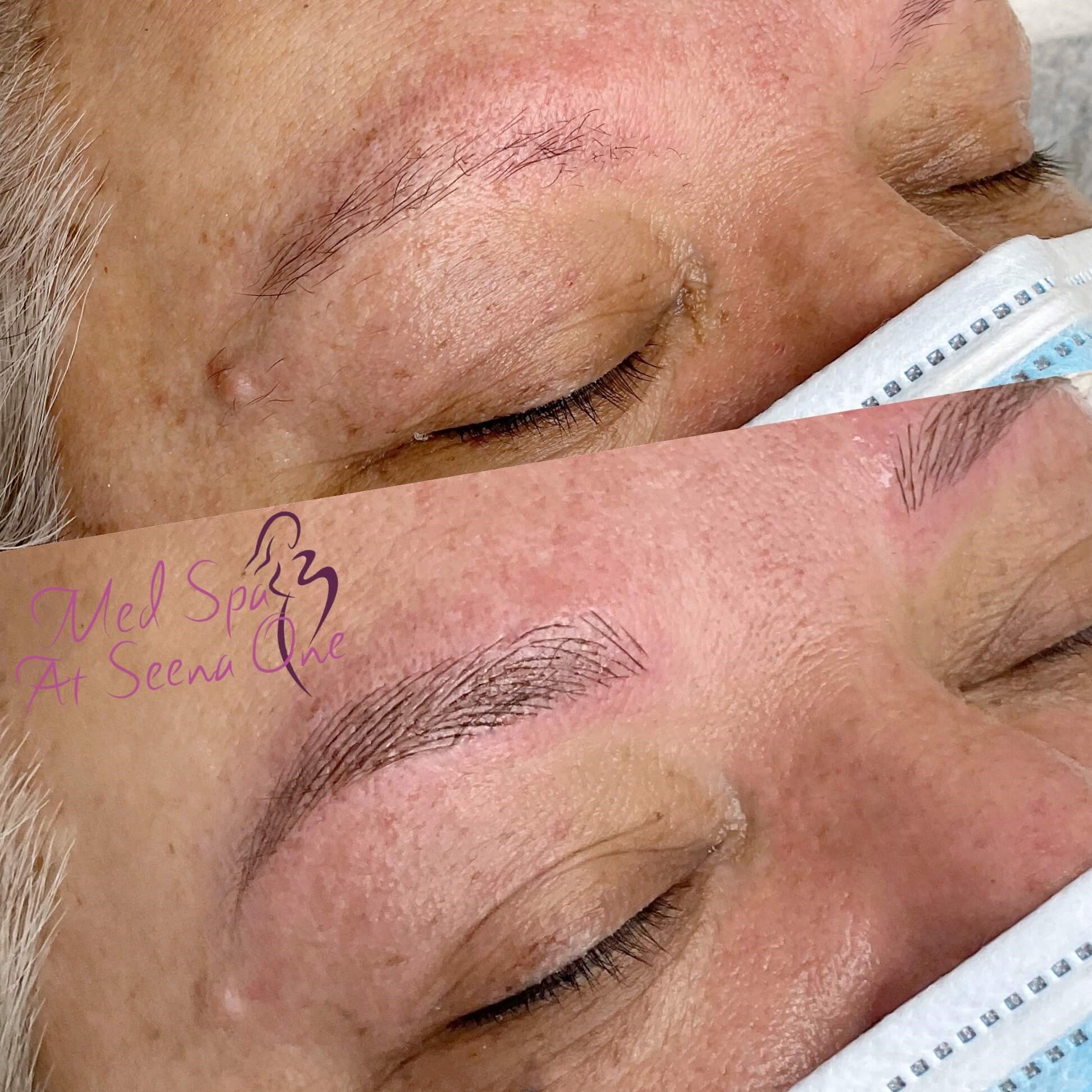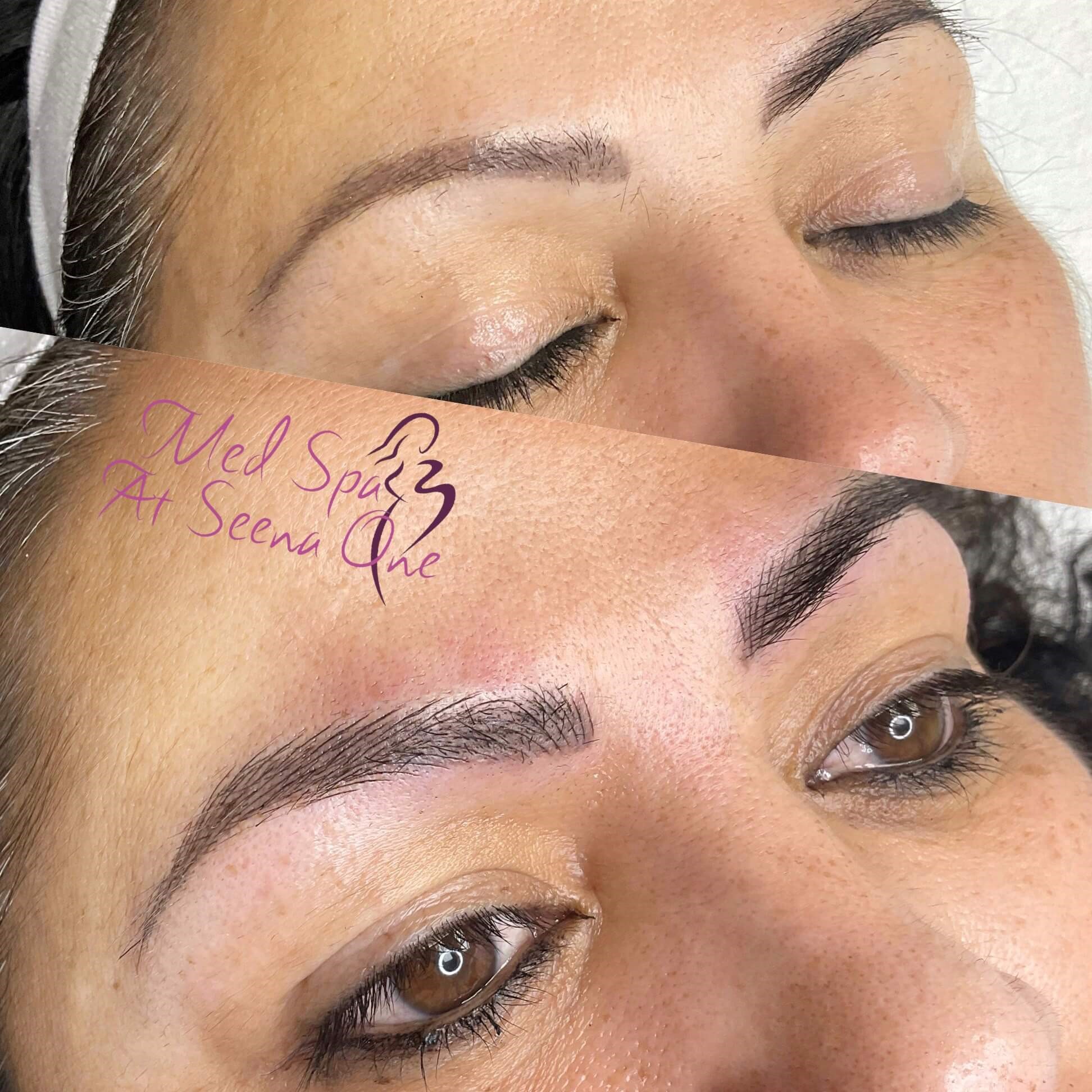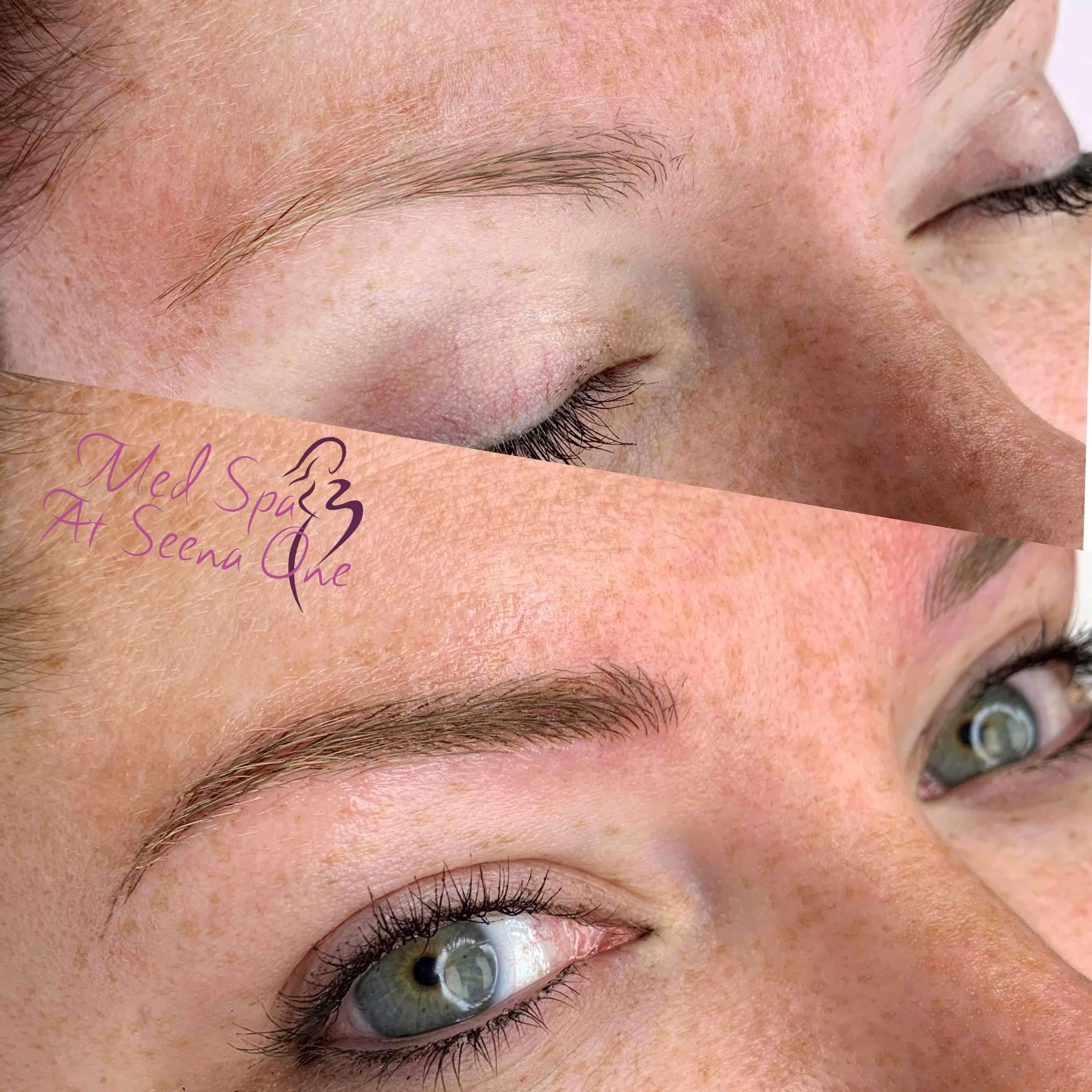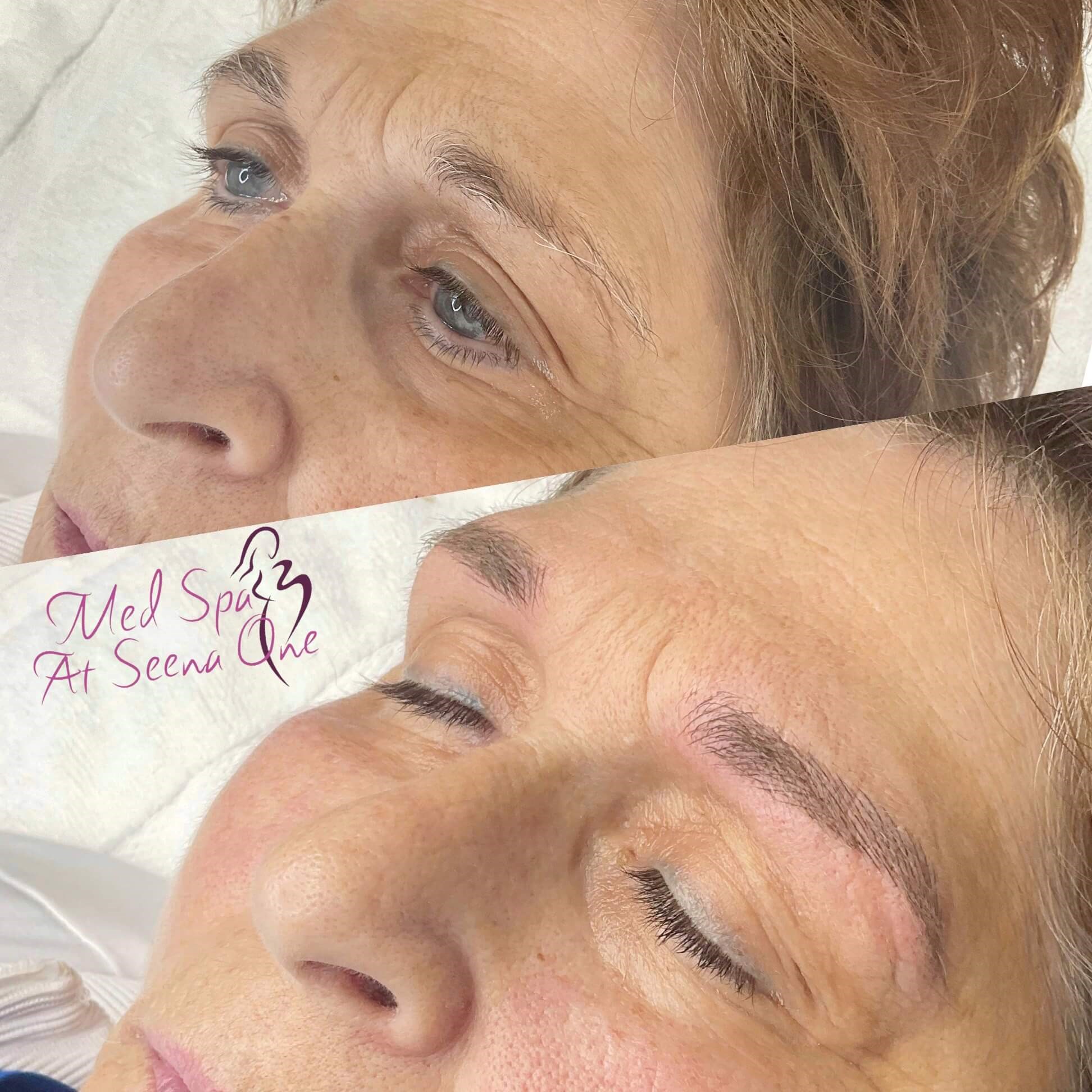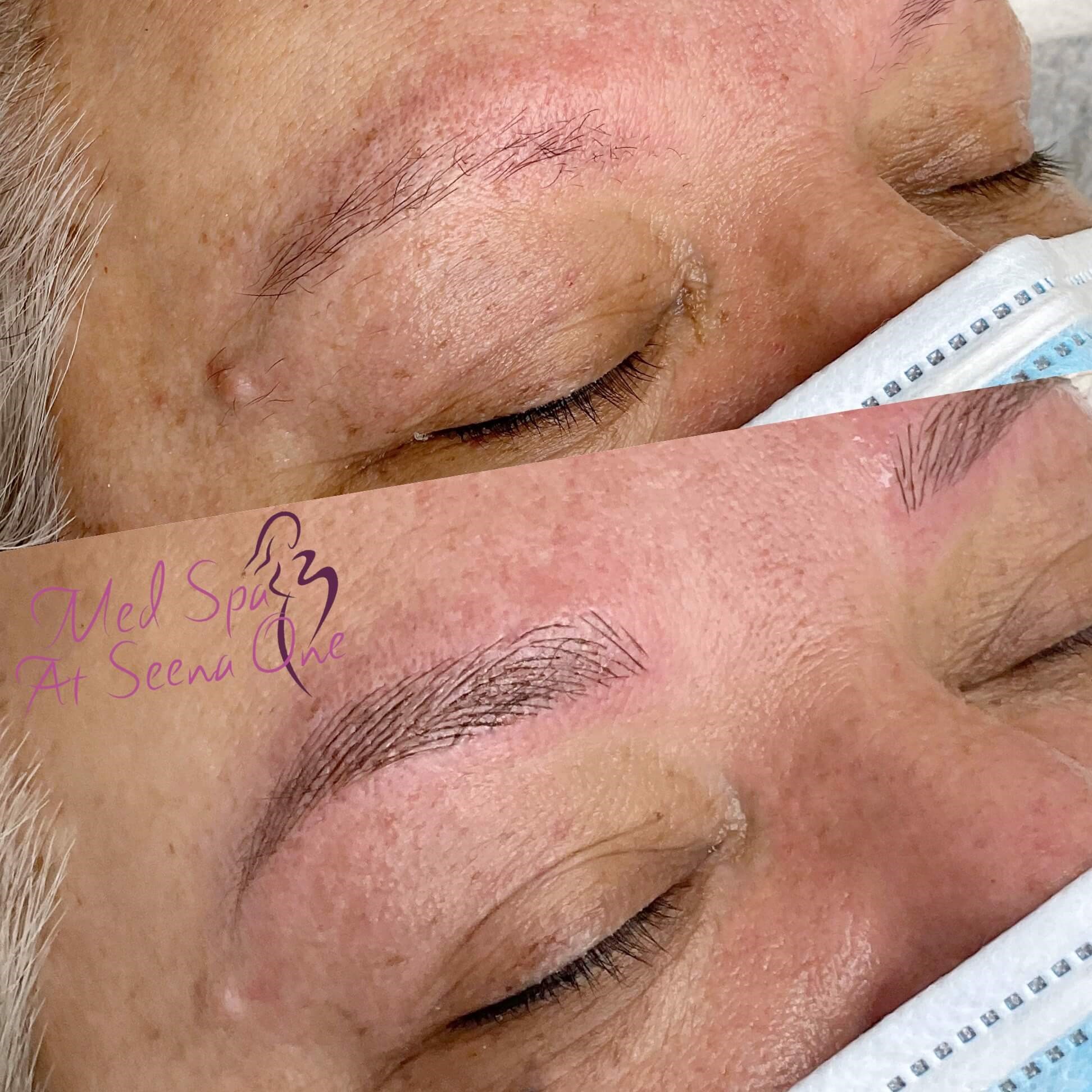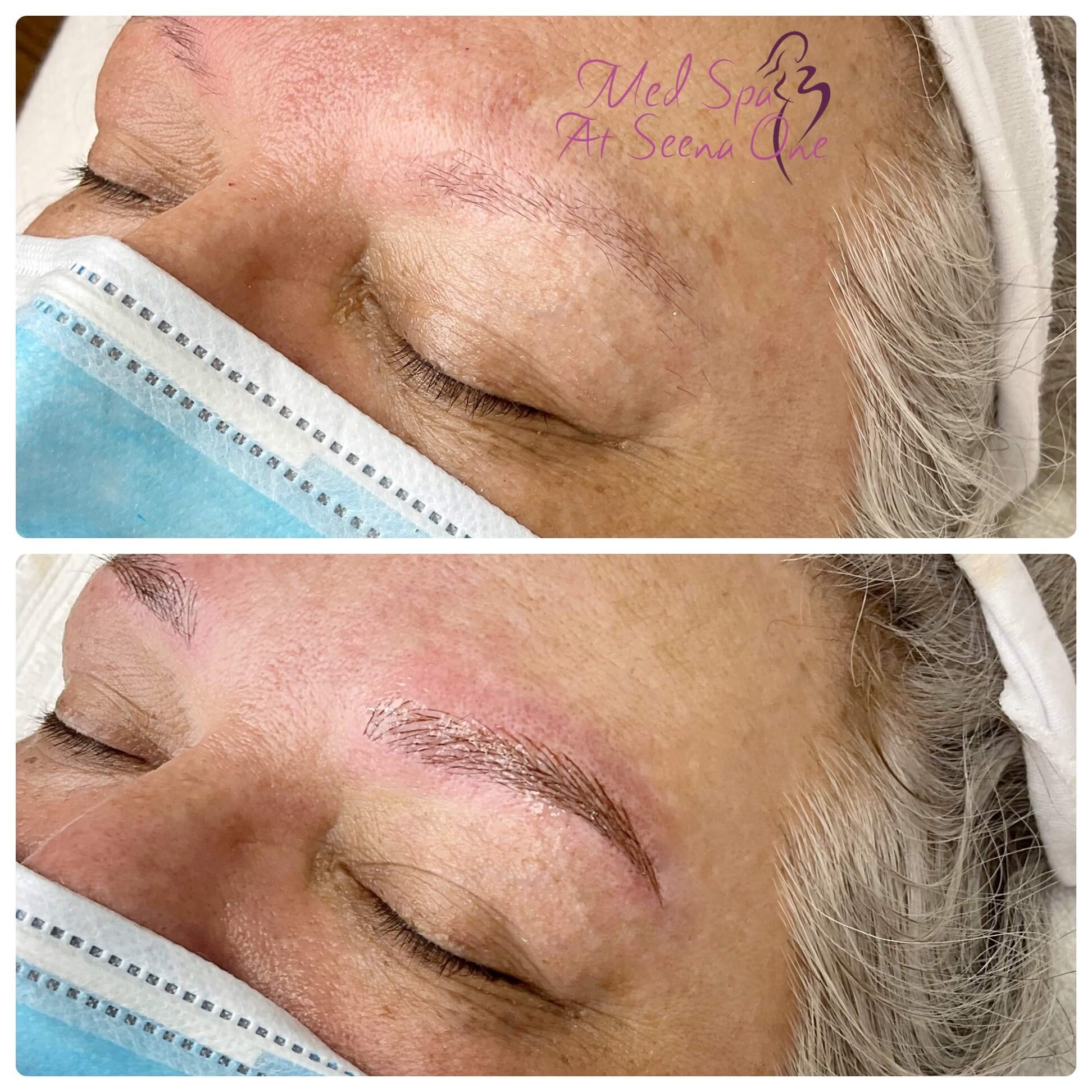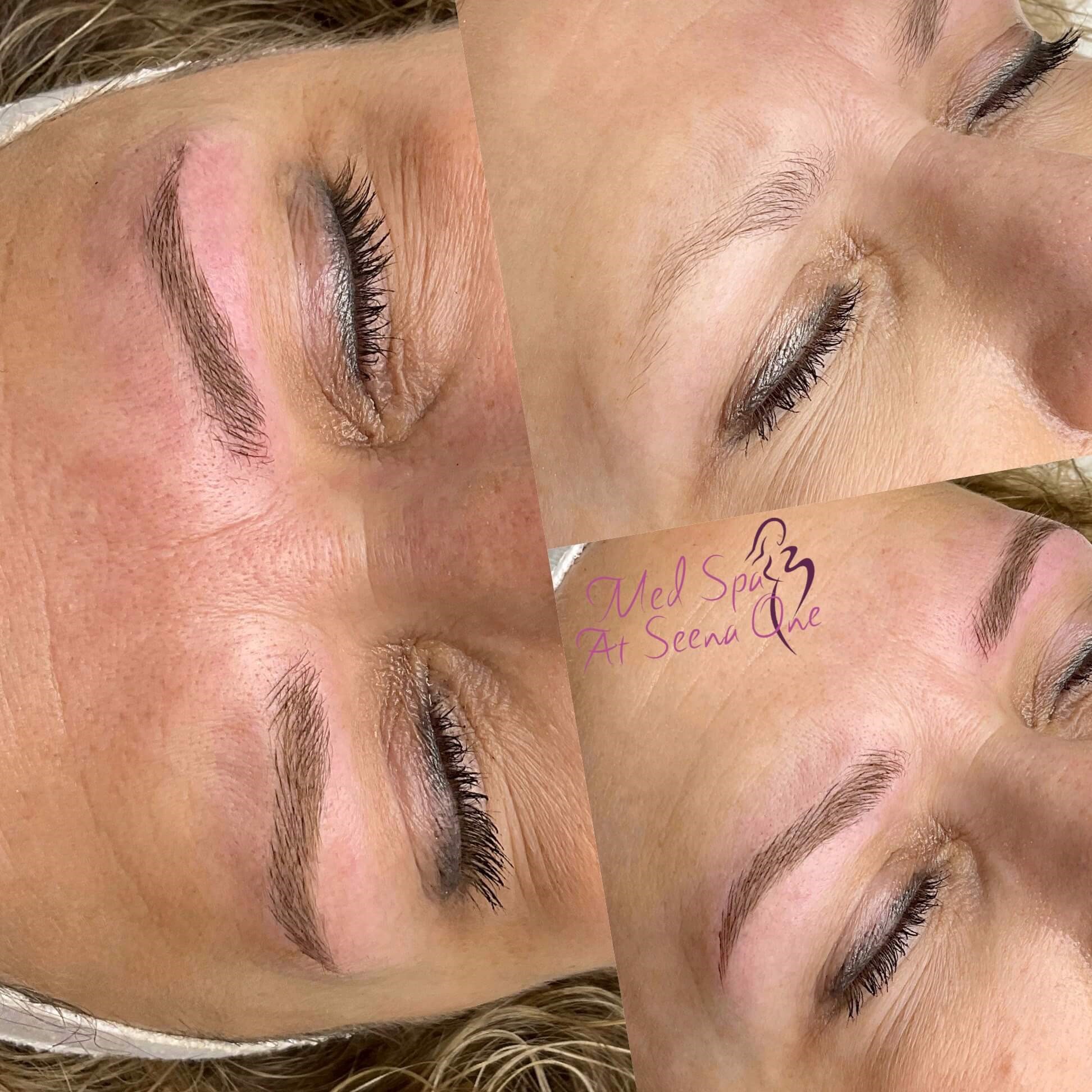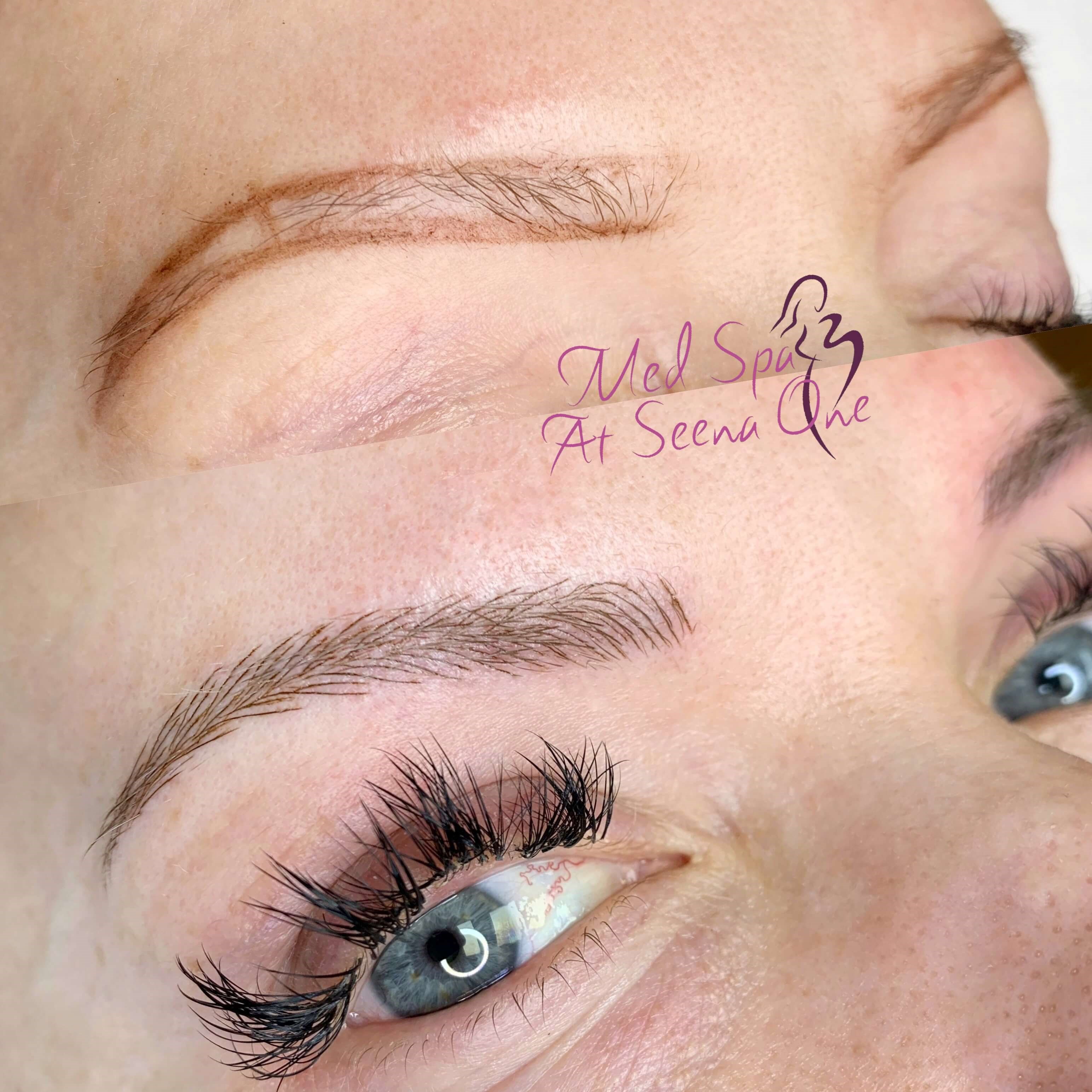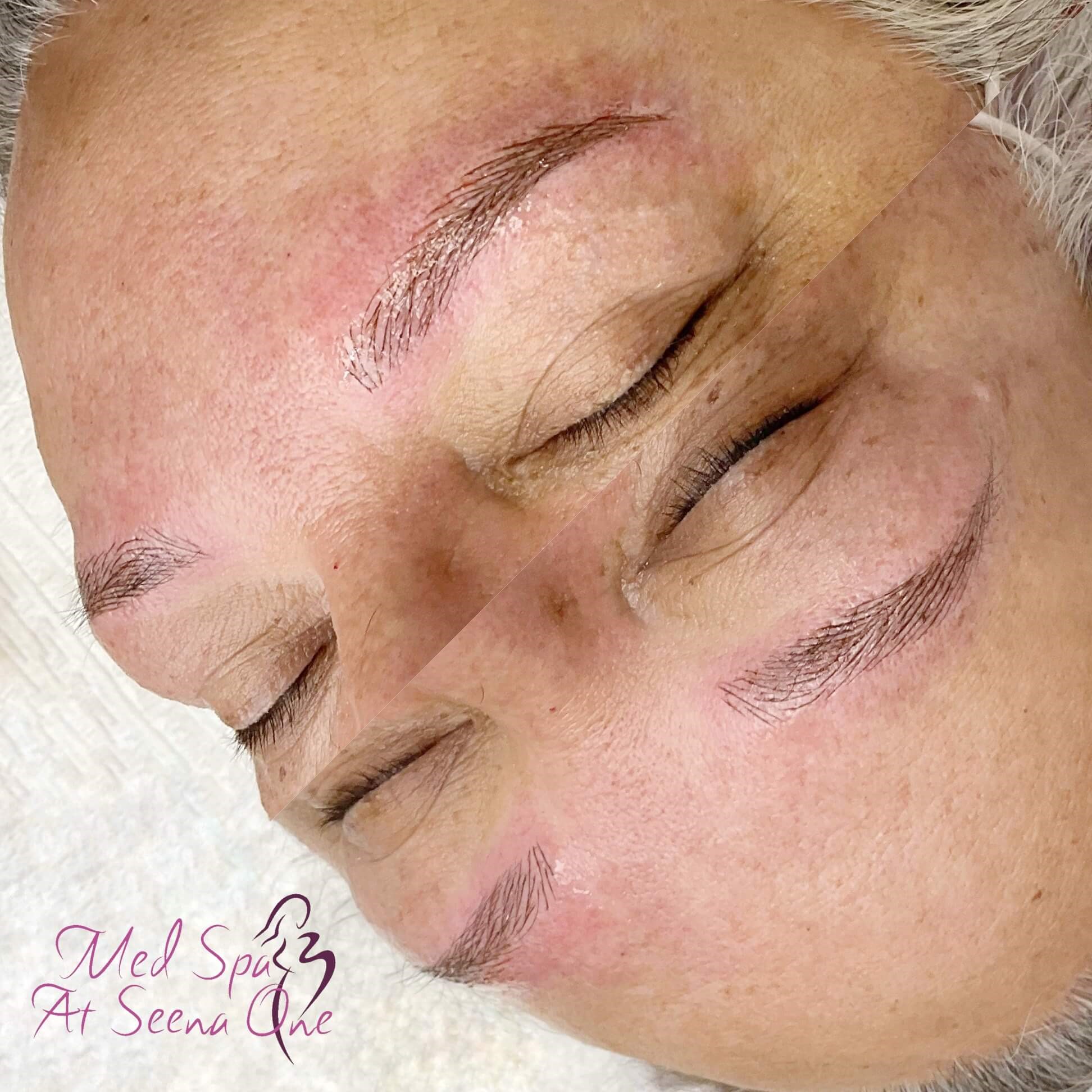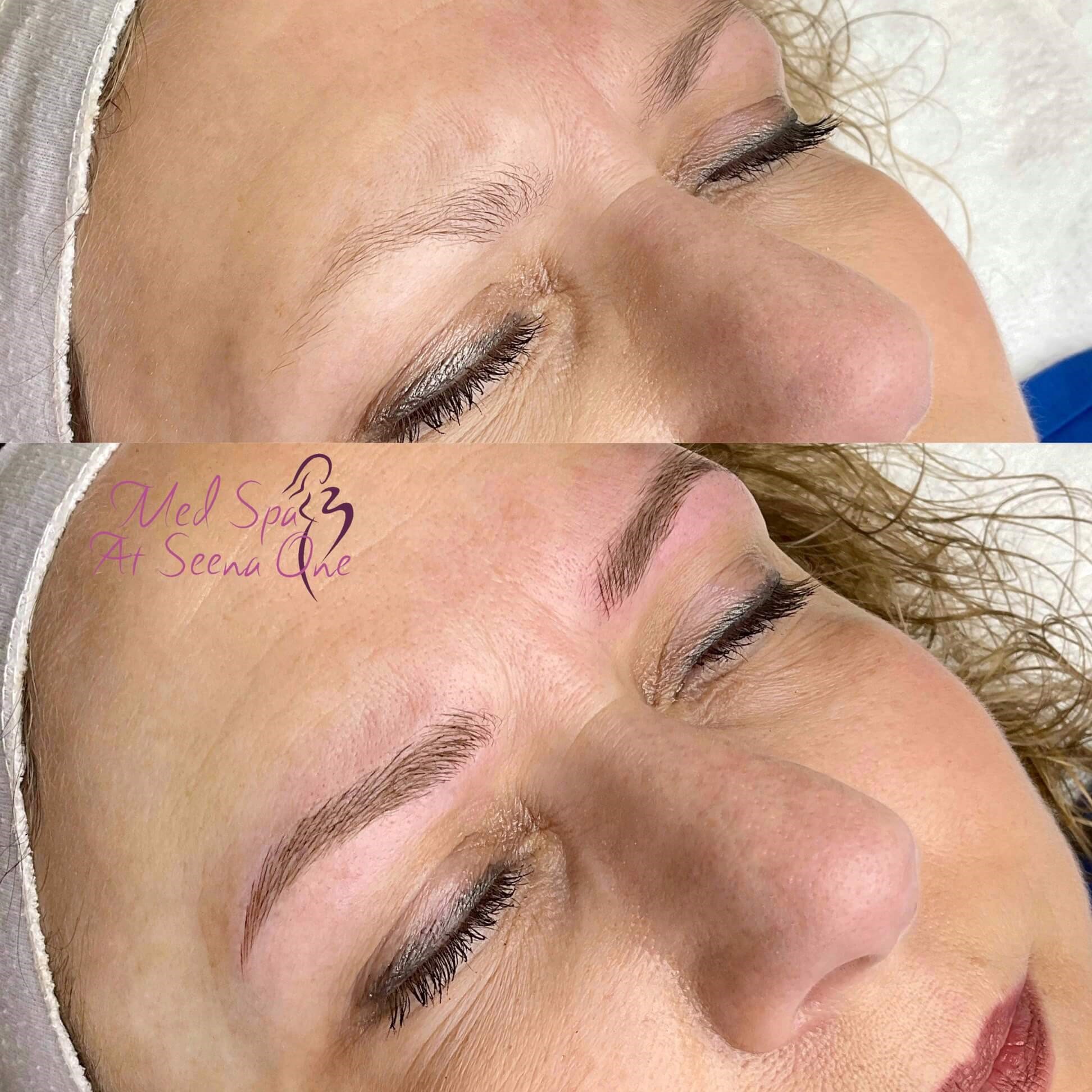 Reviews
"From the scheduling of my appointment to my departure, the experience was very personable. The sweetest nurse Adam called with a smile (I could hear it through the phone call) walked me through the cleaning prep to ensure accuracy and upon my arrival my wristband was ready with and a smile from the front desk clerk. The check in devices are user friendly and clean. After you are taken in the back, you're treated like royalty, from warm blankets to gentle touches, each nurse has the same compassionate spirit that will make your experience personable. The anesthesiologist Claudia was gently kind and removed anxiety by explaining the process and remaining with me until the end. The nurses Lauren and Farrah offer small talk that help remove anxiousness. They all understand what it must be like to have an unconscious procedure and I appreciate their commitment to excellence. And last but not least, Dr. Anees is a man of few words but great impact. I've been seeing him for years and he has great bedside manner and cares for each patient. This staff is a great team. I'm blessed to have been served by them."
- T.G. /
Google /
Apr 14, 2022
"Buy the yearly membership, it's worth it. You'll get discounts on products and services plus free facials. The staff is knowledgeable about all aspects of skin care and will customize your skin care program to fit your needs."
- J.D. /
Google /
Nov 06, 2021
"Cha is very knowledgeable on so many things! They offer so much highly recommended."
- A. /
Google /
Dec 11, 2021
"I have had nothing but a wonderful experience here with Dr. Anees and his entire staff. They got me in for a consult with almost no notice and today performed my EGD. The front desk staff is very friendly, helpful and informative. They made sure I was comfortable while I waited (which I very much appreciate because my anxiety was through the roof) and everyone was very communicative and patient through every step. When I arrived for my procedure I was extremely dehydrated, which made it difficult to place my IV - but they were still very patient and gentle and made what could have been an extremely stressful process so easy and painless. From check in, to my pre-procedure phone call, to procedure prep and all the way through the procedure and out the door in the wheel chair every single person at the facility was extremely warm and kind. Dr. Anees has wonderful bedside manner. He was very patient with me and all of my questions in the consult and made sure to address every one of them as well as discuss in length what I could do to improve quality of life as well as what to expect with the procedure. The procedure itself was quick and easy and I have absolutely no complaints. I have all the faith in the world continuing to visit them for my follow ups and would recommend them to anyone who is looking. Thank you so much Dr. Anees, Farrah, Kathy, Adan, Alexus, Kailyn, Kelly and Dawn (and anyone else's name I missed, I was still pretty groggy under the anesthesia when I left). I appreciate all of you so much!"
- D.M. /
Google /
Jul 14, 2023
"I had a BBL photofacial done to get rid of the millions of freckles and melasma that I have, it actually turned out BETTER than I thought it would with just 1 session. I have had an IPL photofacial done previously at a different local place and had no results whatsoever, it was so disappointing. The lady at Seena One heard my concerns and assured me that she'd get me taken care of. She sure didn't disappoint! She was so knowledgeable, and she took her time to make sure that I would get the best results. I really appreciated that she did a test spot first and waited 5 minutes to see how my skin/freckles would react, so that she could see how my skin would tolerate it and also so that she knew it was strong enough to get results. I couldn't be happier with my results and I highly recommend Seena One. I won't go anywhere else. My entire experience there was 10/10!"
- R.C. /
Facebook /
Jul 10, 2023
Previous
Next
What are the benefits of microblading?
Thin eyebrows or bald spots can be difficult to fill in with makeup, and the results may not look natural. If you are tired of drawing on your eyebrows every morning or methods like waxing and plucking provide unsatisfactory results, microblading may be an excellent solution. Med Spa At Seena One has state-of-the-art microblading technology for the best possible results. Best of all, microblading is a minimally-invasive, nonsurgical procedure that can be completed in just one office visit.
Who is a candidate for microblading?
The microblading procedure is for men and women in the Burleson, TX area who would like a fuller or more defined appearance for their brows that can last a long time and looks natural. Many patients at Med Spa At Seena One who try microblading tend to have weak eyebrows that need to appear thicker or have specific areas that need to be filled in. Thin eyebrows or bald spots can be caused by genetics, surgical scars, overplucking, injuries, aging, and nutritional deficiencies. Unlike cosmetic tattooing for eyebrows, microblading gives you a result that looks more natural, providing total coverage or filling in small areas of the eyebrows. Microblading can also be used to add a slight arch to the eyebrows for a different shape. Ideal candidates are in overall good health, not pregnant, and don't have high blood sugar levels since this can affect the healing process.
How does microblading work?
Prior to your microblading procedure, you will receive a thorough consultation to assess the shape of your brows. Based on the condition of your eyebrows combined with your wants, a customized plan of treatment will be crafted for your microblading session. The session can be completed in our minor procedures room with local anesthesia or numbing cream to reduce any discomfort. Based on how much treatment is performed, the microblading session can take an estimated 1 – 3 hours. To begin the procedure, your natural eyebrows will be lightly combed and trimmed if needed. Your eyebrows will then be marked with an eyebrow pen, which will act as a marker for where the microblading will be used. Med Spa At Seena One selects high-quality cosmetic inks combined with a skilled technician to give you natural-looking strokes that mimic separate hairs for your best results.
What can I expect after microblading?
After your microblading session, you will be able to leave and continue normal activities without any downtime required. You may experience some redness around the eyebrows; however, this typically goes away in a few hours. Your eyebrows will look much darker immediately after your treatment, but they should lighten to your desired shade in around two weeks. Dr. Anees recommends that you make a follow-up session about one month after your first microblading treatment to finalize and touch up your results. The results of microblading on average last about 1 – 2 years, but the process may be done as needed to sustain the look of your eyebrows.
Is microblading painful?
Most patients don't find their microblading procedure painful, although some minor discomfort may be experienced. To help keep you comfortable during your microblading treatment, we will use either a topical numbing cream or a local anesthetic to numb your eyebrows. Many patients say that microblading is not uncomfortable and that it usually only feels like a slight pressure.
Is microblading safe?
Microblading is typically very safe and effective when performed by experienced providers like our team at Med Spa At Seena One. We follow strict health and safety protocols to ensure every procedure is both safe and effective for every patient.
How long do the results of microblading last?
Microblading is considered a semi-permanent procedure, meaning that most patients can expect their results to last up to three years before a touch-up procedure at Med Spa At Seena One may be recommended.
How long does microblading take?
The initial procedure typically takes up to three hours to complete. Some patients may need a second procedure to touch up and fine-tune their results, but this is usually quicker, lasting about an hour.
You don't have to use an eyebrow pencil to define and fill in your eyebrows anymore when you undergo microblading at Med Spa At Seena One in Burleson, TX. Medical Director Dr. Mukhtar Anees offers amazing, long-lasting results with this semi-permanent procedure to fill and shape your eyebrows. With customized microblading sessions, you can get shapely brows that complement your eyes.
Related Post